Offering a Range of Wood Products in Chestnut Ridge, NY, 
TO THE TRI-STATE AREA, INCLUDING ROCKLAND, ORANGE AND WESTCHESTER, NY, CT AND NORTHERN AND BERGEN NJ
Durable Pressure-Treated Lumber
Ridge Supply has an extensive supply of premium-grade wood products, including pressure-treated lumber. We purchase southern yellow pine in such great volume that we are able to bypass wholesalers and buy directly from sawmills that we think produce the highest-quality lumber. After being milled, the wood is then shipped to a plant where it is treated and then it is shipped to us. This purchasing method gives us more control over the quality of the final product. Pressure-treated wood is a durable and low-cost option for your deck surface. We also have large pressure-treated timbers which can be used for deck framing, guard rails, or pergolas.
Long-Lasting Cedar Wood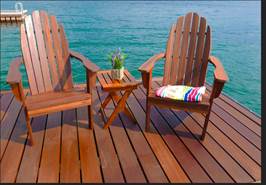 Here at Ridge Supply, we take great pride in having the highest-quality Western Red Cedar. In addition to being a trusted local resource for wood products, we are also one of the largest suppliers of cedar wood throughout the tri-state area. We carry most of our cedar lumber in both #1 and #2 grades. Our #1 material is clear ("Aye and Better" for trim and siding or "C and Better" for everything else) whereas our #2 material is a "select tight knot" product. We carry decking, dimensional lumber, timbers, bevel siding, shakes, finger-jointed primed material, and lattice. Cedar contains natural oils that prevent it from rotting and its distinct odor is pleasant to humans but acts as a repellent to bugs.
Gorgeous Exotic Wood
When you work with the professionals at Ridge Supply, you'll get access to a wide variety of wood products, including exotic lumber. One of the most requested types of exotic wood is Ipé, which is a hardwood that comes from South and Central America. A characteristic of Ipé that makes it stand out is its incredible density, which makes it a fire-resistant
building material. Much like cedar, Ipé contains natural oils which help preserve it from mold, rot, and insects. If left to age naturally, it will weather to a handsome silver color. However, if an oil-based sealer is applied on an annual basis, the wood's natural beauty will be maintained.
Red Balau is a mahogany-colored hardwood that comes from Indonesia. It is not quite as dense as Ipé lumber, but it has a similar resistance to mold, rot, and insects. We get our Red Balau from Kayu International, a company that uses sustainable forestry practices in the harvesting of their lumber. If left to weather naturally, the wood will fade to a silver color. If an oil-based UV sealer is applied annually, the rich mahogany color will be maintained.
Contact us today. Ridge Supply delivers DAILY all over the tri-state area, especially New York City, New York state, New Jersey, Connecticut, eastern Pennsylvania, and of course Rockland County, NY and Bergen County, NJ. Call us today at 845-735-1234 to place your order for delivery all over the tri-state!